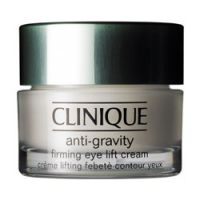 Editor's Rating & Review
This shimmery white cream's firming power is minimal, but the "dense hydrating formula" makes the $40 price tag worth it on windy winter nights. Expect dry, flaky noses and pinched eyes to be restored by morning, ready for another day of assault by the elements. The cream's lack of SPF and heavy texture make it a no-go for summer or daytime wear. And though some might consider the tub less sanitary than a tube or airless pump, the jar's design does make it easier to get at every last drop of the product.

Reviewed by Kristen on 09/21/2007

How we review products
The holy grail!

I looked long and hard, and researched countless reviews on this cream before I decided to purchase it. This is one of the few creams that I really couldn't find any negative reviews. The reason? This cream WORKS. I am normally a budget beauty, but the one product I have no problem splurging on is a good eye cream. $37 is a lot to spend on a beauty product, but for eye cream, I think the price is ...read morereasonable, especially since this product delivers. The cream is the thickest I have come across and it moisturizes endlessly. The first fine lines are often as a result of dryness and this cream erases all of those, and prevents more from coming. I will continue to use this forever. Oh and I am 33 and the only negative reviews I was able to find on this product are on TB.

so-so

This cream is fine for sensitive skin. It did not cause acne on my dry/combo skin. It is very rich, moisturizing, and creamy. It is expensive and I feel the jar compromises the integrity of the beneficial ingredients and makes it a breeding ground for bacteria--yuck! It is also messy for those of us with longer nails. It is fine as a moisturizer but I noticed no firming or lifting as it claims, and think you could find a better product for the price.

Great Moisturizer

I really like this cream because it has a heavy and smooth texture and really softens my skin. It improved the look of my skin a little, but mostly in texture. It made my skin hydrated and soft and feels great on.

Back
to top