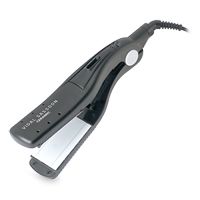 Vidal Sassoon VS155 Smooth and Healthy Series 2" Wet to Set Straightener with Ceramic
As low as
eh

This straightener is ok...I find that I have to go over some sections of my hair a few times to get it right. The plates also tend to snag my hair and pull it out sometimes. It doesn't get nearly as hot as other straighteners do, and it doesn't dry wet hair and make it straight. I also wish it had an auto shutoff, because I've forgotten to turn it off a few times, or on the way to work wondered if I remembered and then thought about it all day. Overall, this straightener is nothing special.

its so good product

i love using this hair straightener, it s really easy to used & handy too..

Great Hair

I was given the product as a Christmas gift and it really works great. I just plug it in and in seconds it is hot and it stays hot the whole time I used it. It doesn't dry or break your hair like others I have tried. The shape of this Straightener is commutable to hold, my hands did not tire as easily. This is a product I use all the time and will continue using forever.