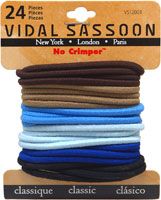 Holds well

Holds my hair up well in a ponytail. They are a little to thick. I like the thin ones better because the wrap around my hair 3 times instead of 2. Great price. I like the fact that they don't have a metal bar that will snag your hair.

Somthing I Use

I like it Love it and it holds my hair where i want them i always buy them...thats the only way i can keep my hair up while i'm at work...

elastics

i don't use these anymore because they don't hold a lot of hair.