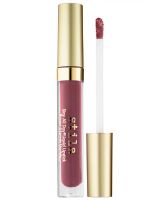 Stila Stay all day Liquid lipstick Shade Beso

I have the shade Beso and am absolutely in love with this liquid lipstick. The color is a gorgeous red that looks stunning on every skin tone (I've seen it on light skinned women and dark skinned women) and stays put. I can put it on for work at 7 am and it will still be on at nighttime when I am going to wash my face. I never use a lip liner with the liquid lipsticks I use (this one and KVD Everl...read moreasting liquid lipsticks) because these formulas are extremely pigmented and don't need a lip liner in my opinion. Beso stays on my lips all day, isn't drying or cracking on my lips, and I can wear it with an everyday nude eye or a dramatic smoky eye. I will be purchasing more colors and will purchase Beso again.

AMAZING

I bought this lipstick in the shade 'beso' at sephora. it's the most perfect neutral true red, and works on me (yellow based skin tone) and my pink based skinned friends! it applies smoothly and once it dries to a perfect matte finish, it stays until you take it off. it's actually a little difficult to remove it, in fact. i usually rub coconut oil on my lips and let them sit for five minutes or ...read moreso, then wipe off and use a makeup wipe on them. You also have to be careful and apply around the edges with a lip brush, because if you mess up, it's a huge hassle to fix it. it's a bit of a struggle, but totally worth it. my one problem is that it has a very strong vanilla scent when applied, but it dissipates quickly. 100% worth the money, i will keep buying this product until it is discontinued (which is hopefully never)!

Great!

The good....this DOES stay on through nearly everything. It completely dries, so if you're driving with the windows down and hair gets in your face, it won't stick to it. You have a very short time to perfect it when applying and once it's on, it's ON and it's not going anywhere. Pretty colors. Surprisingly, the pink Bellissima color stayed on and despite being a light color, it "stained" as we...read morell as dark colors do. It doesn't dry out your lips, either!! It also lasts through most meals (unless you are having oil..I cook a lot with olive oil and that does remove it. But nothing else so far has...and I enjoy eating nearly everything). The bad....your lips look dry. The color stays on all day (which is great), but it does oxidize and change color a bit, though this is after a couple of hours and is not too big of a difference. Another small issue is that if for some reason you're biting your lip or doing something else to remove it (like olive oil), you must remove it all and then reapply or else it looks far too caked on and thick in a dry lip-with-too-much-product way. I like this for running errands because it gives off a natural perfection, but up close it's too dry-looking for me (although adding a gloss may make it look more moisturized). All in all, the only lipstick or stain (ESP in a light color) that literally DOES last all day with minimal to no care.

Back
to top