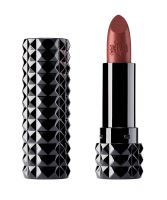 Treat Yourself!

I'm a pretty big fan of KvD's products and these lippies are no different. I treated myself to a miniature of the Noble color, which is described as a matte petal pink nude. The product claims to have 10-hour, one-swipe color with velvet touch comfort. It definitely wasn't a 10-hour wear, but it did fade nicely throughout the day and well into dinner. I noticed that on the first swipe it was p...read moreretty great, but I did an extra coat to really finish the look. It was matte while not drying and I would agree that it was quite comfortable. Also, have you seen the packaging? KvD always has gorgeous packaging for her products, but these pyramid-studded lipstick cases are to die for!

Underwhelming for the money I paid

This is $21 and it has staying power akin to a $5 brand. It is so embarrassing to strut down the hall at school feeling so confident and some rando girl comes up like UHHH Your lipstick is like...gone. Especially in a dark color like Poe, which is the one I bought. Good color payoff though, I guess.

Love Her really wanna try other colors

This is legitimately the single BEST everyday lip stick I have ever serendipitously come across. I have naturally dry and sensitive skin so i usually stay away from lip color (usually ends up dry, cracking or peeling, but this product is hydrating and natural feeling that I may very well wear this on a daily basis. PRODUCT EXPERIENCE: First time ever applying and I was blown away. It's absolutely ...read moreperfect, a naturally unnatural color mix of light cocoa and caramel. It gives me a natural sexy appeal without even trying. TEXTURE: Smooth, hydrating, subtle shine, strong pigment. **Have worn it on 2-3 different occasions and have no experienced dryness or cracking. WEAR: Long-lasting -a couple of hours wear (6-8 hrs) before applying another coat. When it does fade, gives a nice and natural ombré effect (socially acceptable). LIPSTICK CASE: Edgy/studded. at first it takes a good tug on the lid to remove open the lipstick but after several uses becomes too easy for the lid to easily slip off. CAUTION: Be sure to have a proper make up bag i̶f ̶u̶s̶i̶n̶g̶ ̶ once using frequently. Don't want to ruin the beloved product. ♥ THE STORY: Initially, I was ONLY browsing while my friend was looking specifically for "CATHEDRAL". She ranted & raved about how she really wanted it the last time she was in but that it was sold out from popularity. Thankfully she was able to find it and coincidentally there just so happened to be one more left. . .And YES, I nabbed the gem!! Did not get the chance to use it until the next day. But once I did, it was game over. It will probably be forever until I find another color to replace this. :) GL beauty brands.

Back
to top