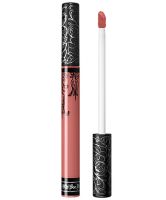 Love it

I have this in Back Stage Bambi, it's a super hot metallic pink that looks fantastic and takes hours and hours to come off. If you are looking for something long lasting this is your best bet. It can be a little drying like most long lasting liquid lipsticks but a little gloss or balm on top solves your problem.

Most drying lipstick I've ever tried....

I didn't seem to like this compared to everyone else. Like all matte liquid lipstick, this is very drying. It's the most drying matte lipstick out of everything I have ever tried. It's not comfortable on the lips at all. I LOVE the staying power on this and how it doesn't settle between my fine lines on my lips surprisingly. Even when I swatched it on my hand in the store, I had to literally rub s...read moreuper hard to get it off with makeup remover. Love how this is transfer-proof and I can kiss my daughter all I want without it getting on her cheeks:-) This is also very pigmented. I was not a big fan of KVD's bestselling color Lolita since it just looked black on my lips so I picked up Lovesick which is a nice mauvey lavender pink color that I get complimented on every time I wear it. I absolutely love the color, just not the drying factor. But it is a great liquid lipstick if you're looking for something to last all day! This is just not for me since every time I wear this, I can't help but apply a gloss on top every time.

Long Lasting

For Christmas my friend bought me this lipstick because I am a total Kat Von D fan. I haven't heard the best reviews about her makeup line so I was very skeptical on whether or not I was going to like the product. Well lets just say I was shocked to find out how much the color popped. I've tried liquid lipsticks before and this one topped all of them. Usually, they will start to fade after every t...read morewo hours or so, but not this one. I wore it on a night out with friends and it lasted the whole night, I didn't even have to reapply after eating and drinking. I read another review on here and I have to agree, the lipstick is drying. So that would be the one negative thing I have to say about this product. Other than that I think the lipstick is great, it lasts forever. Liking this product made me buy an eyeshadow pallet and the tattoo liner from the Kat Von D line, and I didn't really like them. So if you buy anything from the line, buy the lipstick.

Back
to top