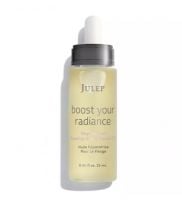 Julep Boost Your Radiance Reparative Rosehip Seed Facial Oil
All You Need for Dewy Skin

I am SO impressed with this product. I'm obsessed with that dewy skin look, and this product is all I need to achieve that. Not only is the face oil superhydrating to a dry complexion, it adds a nice suppleness to my skin and gives me just the right amount of shine without looking overly greasy. It also sinks into the skin seamlessly and doesn't feel tacky to the touch either. Instead, skin feels ...read morehydrated and smooth. The true star-quality, though? IT FRICKEN LASTS. Most face oils, balms or anything of that nature are gone about halfway through the day for me. This? I literally had dewy (non-greasy looking skin) from the moment I put it on, until I took it off in the evening. I am obsessed.

Lives up to hype

I actually found this in a basket of skin care stuff someone left on top of our recycling dumpster! Most things were sealed, including a pack of towelettes. I grabbed some items, including this. It looked expensive from the packaging. It's not something I'd buy new for myself, and I even even heard of the brand. I wanted to see what the fuss about facial oils is about. I was sure it would be...read more some greasy mess! Not so...1 or 2 drops is all you need to make your skin soft and smooth. I've used it around the lines under my eyes and at the corners of my mouth. I let it sink it, then apply moisturizer and make up. The oil smooths out my lines and seems to minimize my foundation "settling" into my lines. I've been using it daily for over a month now, and I'd definitely recommend it to someone. It is just part of my morning routine, since nobody sees my skin while I'm sleeping, LOL. I'm 56 with dry skin, lines, and lots of spots. :-( The fragrance is sublte, kind of citrusy-pine like. Be careful not to tip the bottle over, as it's pretty easy to do.

Back
to top