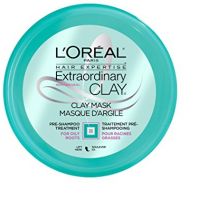 L'Oréal Extraordinary Clay Pre-Shampoo Mask
Interesting Concept, But Not Sure It's Worth the Extra Step

This is an interesting product. It looks and feels like a clay mask you'd put on your face, but you apply it to your dry roots and let it sit for five minutes before shampooing it out. The idea is it'll soak up oils. Though the concept intrigues me, I don't know if this was worth the extra work. I feel like I could have gotten the same effect using a really good shampoo -- or a clarifying shampoo -- and bypassing the mask step altogether.

Back
to top