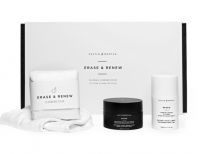 Pestle & Mortar Erase & Renew - The Double Cleansing System
Gentle and effective

I though this double cleanse system might be too arduous for someone who likes to get done as quickly as possible and get into bed. It left my skin soft, nourished and cleansed without feeling stripped. The white muslin cloth is a nice touch -- I was suprised by how much makeup was still on my face during the second step.

Back
to top