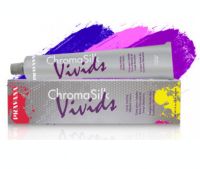 Pravana ChromaSilk Vivids
As low as
The Best for Fantasy Color

If you have a tiny bit of skill and some pre-lightened hair, you can use this to create some gorgeous unicorn color. Grab some gloves, vaseline and apply to the bleached sections (or allover, if light enough.) Your hair will be so vivid and pretty. Lasts several weeks, but requires very gentle shampoo and color-depositing conditioner to keep bright.

Fantastic hair dye

I jumped on that gray hair colored bandwagon, but was vastly disappointed when I couldn't find anything in my town to do the job. Luckily, I was able to order this online. Anyway, I read a bunch of different ways to use it online and here's how I did it. First off, I have really dark hair. The lower half of my hair was bleached, but the rest wasn't and I wanted all gray so I bleached my hair. A L...read moreOT. If you have dark brunette hair, be prepared to do a lot of damage to it if you want to go gray. I know my hair, so I bleached it way more often than I should have in just a couple of days. I don't recommend it, I'm just impatient and again I know my hair, I know what it can handle. Benefit of doing my own hair I guess. Besides bleaching, I also had to tone it to try to tame the orange and yellow hue. Before I used the Pravana Silver, I used Clairols Shimmer Lights Shampoo for about a week to further tame out the yellow and orange. I'm telling you this because if you don't tone those colors out, THIS SILVER WILL NOT WORK PROPERLY. Your hair needs to be as light as possible with a little undertone colors as possible. No orange, and the yellow color needs to be as light as the inside of a banana. Once I was ready, I mixed the Pravana Silver with some Aussie conditioner (I love the smell!) so it was a light lavender color and applied it all over. I learned about mixing it with conditioner from reading a bunch of reviews from different web pages. Anyway, I applied it, threw on a shower cap, and left it on for hours. Benefit of mixing with the conditioner is that it helps alleviate the damage from all the bleaching, and when I washed it out my hair was super soft. And I love the color! I got so many compliments on it, by friends and even random customers while I was at work. So nice, this stuff is so easy to use. I plan on getting other colors, as soon as I can afford it. I tend to color my hair fairly often, so price is a major factor. On a side note, I'm allergic to your standard hair dyes. I'm talking hives and blisters if it just barely touches my skin. Until now, the only hair dye I've been able to use was Manic Panic. Now I can Pravana to the "list" of dyes that don't irritate or damage my sensitive skin.