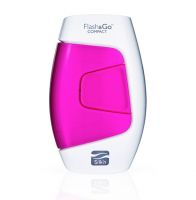 Silk'n Flash & Go Compact
So Far So Good

After only one use I noticed my leg hairs coming in thinner and softer. The device is easy to use and as I have pale skin makes me an ideal candidate. I also like the app that you download that works alongside the app reminding you when your next treatment is due. I guess so far the only thing I'm not a fan of is the warnings of using the laser on your skin, although it is FDA cleared. I will update my review as I continue my use of this product.

Results After First Use

After using the larger and older version of this product, I was excited to get my hands on the express version. It is definitely improved and works as you would have dreamed. There is a flash of light and slight pop upon pushing the button, but nothing near as bad as before. Not as effective as getting lasered at a medical spa, but you'll notice results after the 1st try under the right conditio...read morens: shaved skin, lighter skin with darker hair. Each time, hair grows in slower and gradually finer. Love having the convenience and spare change from lasering at home!

Back
to top