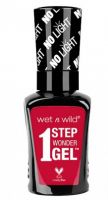 Wet n Wild 1 Step Wonder Gel Nail Color
Peri-Wink-le of an Eye

For whatever reason my nails have always been very brittle and when they get longer they always start breaking or cracking on the sides. I can never get past a half inch of length before they start breaking off but I actually have just grown to like them that length because they always look clean and well groomed. This periwinkle shade is just stunning against my skin ( I have a heavy yellow ta...read moren skin tone) and I just love the way this shade looks against my tan. I am pretty picky when it comes to formulas of nail polish; I wash my hands a lot and my usual polish chips right off. I always put two coats of polish (letting one coat dry fully and than applying another) and love how this dried. It hasn't chipped at all and looks just as shiny as when I first put it on. One of the biggest pros of this nail polish and all of Wet N Wild products which makes me love them even more is that they are Cruelty Free!!! I have slowly started using up old products and we have made the switch to Cruelty Free products in our home. I love this polish and will be purchasing other colors.... It's less than $3!

I'm Sold!!

Longest lasting polish I've ever used! It lasted through an evening of bartending and a following evening of cooking and catering a party! I even just bought a red one for the holidays in case the red is all sold out for when I need it! Unheard of for me! I

Long lasting manicures at home

I was a bit skeptical when I purchased this product, but was very curious to see how well it worked. I purchased the blue ("cyan-tific method"), and I thought all of the color names they came up with were so friggen adorable! I couldn't get over the cute names. The polish smells the same as any other, and has the flat-type application brush. It actually dries fairly fast (a BIG plus for me, as I h...read moreave kids. This means I don't usually have time for painting AND drying- resulting in many smudgy manicures), and has great pigmentation- one coat totally covered my nail in color. If you go to the salon and get gel polish, the polish is thick, strong, and smooth, with a gel-type softness (think gel-insoles kinda). This polish doesn't leave the gel feeling, but it is thicker than most polishes, and strong. I tested this with one coat, and 2 coats. With only 1 coat, my mani lasted a week and a half! Two coats lasted two weeks solid- no chips, peeling, or smudges. I will definitely buy this in every color, and can't wait to try more like it! It really is a WONDER that one step can last this long.

Back
to top