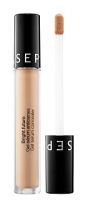 Sephora Bright Future Gel Serum Concealer
Awesome!

I have genetic dark circles under my eyes. My grandmother has them, as does my father, who was gracious enough to pass the Italian-Mediterranean looking physical trait on to me. I also dealt with acne my whole entire life, from the age of 14 until I was about 27. I have tried all types of different concealers. For $8, the Sephora brand concealer is amazing for the under eye! It goes on flawlessly,...read more blends really easily, gives great, full coverage, and stays all day. A lot of concealers kind of rub off as you blend it in... this one does not. After you put it on, it has a matte, dry finish. I absolutely love this product and sing its praises to all my girlfriends, just like I have in this review!

HOLY GRAIL

On a trip to Barcelona in 2016, I obviously had to drag my reluctant other half to the Sephora store multiple times; the range of brands that the UK does not have access to is heartbreaking. After swatching every liquid lipstick and every highlighter, I came across the Sephora own brand concealers (Bright Future Gel Serum Concealer). I previously watched a LustreLux YouTube haul NYX, Sephora, & Ta...read morerget Haul where she reviewed the concealer and said how it compared to the Nars Creamy Conclear. So obviously when I saw this in the Barcelona store I couldn't resist! It is such a high coverage concealer which works so well to brighten up dark circles under sleepy and tired eyes, as well as being a perfect base for a powder to complete the look and preventing creasing. I honestly wear this every single day. I'll wear it to create the classic 'no make up' look or use it for a full coverage glam look, it is honestly so versatile. The reason for 9 stars and not the full 10 is the applicator... really unsure of it, not really a brush nor a stick. But stupidly this concealer is now one of my Holy Grail items ... an item which can only be purchased in Sephora ... and I live in the UK. Luckily I had friends traveling to NYC so I was able to stock up, but now I'm onto my last bottle. Sephora to the UK anyone??

Solid Concealer

This locked onto my skin as soon as I put it on and barely budged all day. It offers pretty decent coverage but not the smoothest finish.

Back
to top