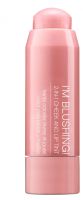 Palladio I'm Blushing! 2-in-1 Cheek and Lip Tint
ok for one or the other not both

I didn't feel like this 2 in 1 really was appropriate for both uses. The color for my cheeks was too light and the texture was a bit too easy to wash off. For my lips it was ok too not enough moisture and had to reapply several times. This ok for quick fix but not very reliable. Maybe in a darker color this would work but I used the color seen on this image.

Back
to top