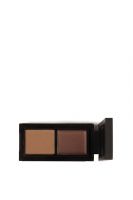 Topshop Beauty Brow Palette
i'd pass

i've spent my fair share of money on brow palettes. the topshop brow palette didn't really do it for me. i've used cheaper ones like ELF and also a little more pricey ones like anastasia (which bot hwork super well) and this one just falls short, at least for me. it didn't really have the pigment i needed and i was just kind of overwhelmed. it did come in a cute compact case though, which might be handy when traveling.

Love this brow palette!

My "Whatever" Topshop Brow Palatte is my favorite brow palatte to date. Application was easy. I preferred to use my own makeup brushes than the tiny ones provided (though these might be handy when I travel). Loved that my brows were bold while still looking natural.