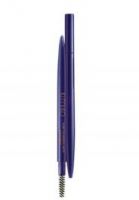 This is the last time I listen to reviews here!

This is not a cheap pencil from the drugstore. I paid $23 for it and it won't even draw a line. In fact my eyebrows are now all scratched and sore from trying it. Never again.

Best brow pencil and brush on the market!

Kimiko's fine brow pencil literally strokes on hair to your brows, resulting in a natural and full brow-look. I have dark and sparse eyebrows, and this pencil does a great job in softly adding texture and pigment to the brow line, and you don't need to be a pro to apply it for a great, long-lasting look. I simply love it!

Must have beauty product!

The Kimiko Brow pencil is one of my must have products! I have yet to find anything else that allows you to draw such a natural line! If I over pluck and fill you cannot even tell it is a pencil! And it wears all day! I do not leave home without it! It has also become the gift my mother requests for every occasion! On top of the perfect pencil it has a great brow brush on the other end so everything you need is at your fingertips!