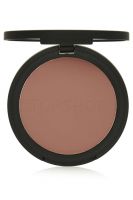 Topshop Beauty Bronzer
Beautiful, natural looking bronzer

I am very particular about my bronzer. I am fair skinned and prefer to stay out of the sun, yet I love the tan look. This bronzer gave me a realistic glow without the extra sparkles or glitter (or being overly matte.) It was a very natural color and stayed put all day.

Natural Looking

I was looking for a bronzer that didn't contain sparkles. This bronzer managed to not look dry and left out the sparkles. It gave me a more natural tanned look. The packaging is quite nice too! I couldn't find it in a lot of places. Amazon doesn't carry it nor Ulta. I found that it was a UK brand. It's about $18 on their website.

Back
to top