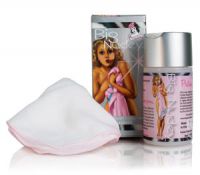 Pristine Beauty Big Nudey Facial Cleansing Crème
Best cleanser out there

This cleanser is my absolute favorite beauty product. It cleans away makeup up easily and thoroughly but is gentle and non drying. I use a toner after then finish with my Brallywood Butta moisturizer. Flawless skin! Thank you!

Nice Creamy Cleanser

This is a nice cleanser. It does not lather up but almost moisturizes as it cleans. A little goes a long way too. It definitely does not dry out my skin.

Back
to top