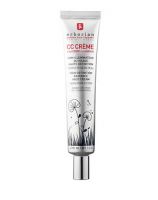 Erborian CC Crème
As low as
Custom made cc

I didn't believe that this product actually adapts to your skin . Until I tried it. You must rub it in well with your fingers in order for it to change from ghostly white to your skin tone. It is the ultimate , "no makeup, makeup". Rub in well, set with a great powder like: It Cosmetics". No gray tint for this olive skinned lady . Ingenious.

Adapts to your skin tone!

First off, I love that this product comes out kind of grey-ish, but when you apply it, it changes to match your skin tone. It feels so lightweight, but gives really good coverage and leaves skin looking luminous and fresh.

a little too orange

I love their products but none of the colors really matched my skin tone. It's a little too orange for my liking.