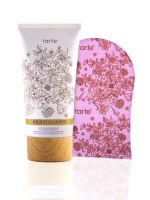 Tarte Brazilliance Skin Rejuvenating Maracuja Face and Body Self-Tanner
ok

what I liked about it,the color it gives is a beautiful bronzed/brownish with just a touch of orange,which doesn't look bad,those where my results,I have really pale skin. What I dont like about it,it's time consuming to apply,its really thick and hard to blend,so you have to be really careful to apply evenly,and it does take a while to dry. And the results dont last for long,it starts to fade af...read moreter a few day,you'll have to use at least twice a week. I would definitely not recommend it for the face,since it's super thick and oily,and the smell is strong

Paging All Ghosts

If you're like I am, you cant get a tan. Ever. This self-tanner has changed my life. It moisturizes and doesn't leave you with that gross burnt Doritos smell. It isn't orange and it delivers immediate results due to the tinted guide it has when applied. The only drawback that I've ever had with this self tanner is that it takes a while to dry. But if you have that little extra time at night, the wait is SO WORTH IT!!

Back
to top