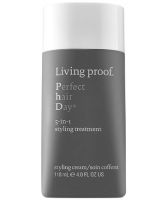 First product I've tried from Living Proof!!!

I'm so glad I received a sample of this from Ulta. I've always heard good things about this line but I'm so hesitant to buy it because of the price tag and I'm usually really low maintenance on my hair so it doesn't make sense for me to buy a $27 bottle of a hair product. Having Jennifer Aniston as a co-owner on this brand should have sold me already because I've always been envious of her hair wh...read moreen I watch her on "Friends." But I wanted to go cheap. I normally never spend more than $15 for hair products but I have to say this stuff is absolutely amazing and does what it's supposed to do. I really like the scent on this as well. It is a lotion texture and I highly agree with the other reviewers that a little bit goes a long way. I only use about a nickel size for my entire hair. I was scared that this would weigh down my hair because of the lotion texture but I'm highly impressed that it was super lightweight. It really smooths and volumizes my hair like it claims. I have to say that this works better on damp hair and not dry hair if you ever wanted to take that route. When I used this on my dry hair, I noticed the difference right away. It felt a little bit heavier and not as smooth so I highly suggest to use this on damp hair like what the instructions say.

Amazing

This is the best leave in hair styling product that I have ever tried. I love everything about it. Just a little goes a very long way. I can completely tell the difference when I skip this and use something else instead. This truly makes all the difference in my blow drying time and the final result. I have natural curly, frizzy hair, and this product really helps. I do not even have to use the fl...read moreat iron as much anymore. Just a few spots that I like to go over around my face and that is about it. This is my go to hair product.

In Love with this Product

I received a sample of this on my last trip to Sephora, and I decided to try it out before family pictures. First of all, the smell is amazing! I use LUSH shampoo and conditioner and I usually dislike products that overpower the scent from my LUSH line, but this scent really compliments my LUSH products and my hair smells incredible all day. I have very fine and thin hair that is stick straight(no...read moret a fun combo to work with) I normally curl it with a straightener to achieve waves, but I am growing it out and it is at a pretty akward stage falling just past my shoulders. This product actually "plumped" up my hair. As soon as I applied it, my hair actually felt bigger, which is quite a feat for my hair. Once I had blown it dry, my hair had a clean feeling texture to it. I was able to curl the ends a bit and my hair looked and felt full and healthy. And the feeling lasted all day. My hair tends to get very oily, but I felt this product really kept that at bay. The only reason I did not give this product a 10 is because I am a little concerned about buildup, but as long as I am careful with the amount, I think it will be great. This product is a must-have for me now!

Back
to top