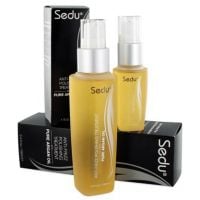 great

If you have color treated, or dry hair/frizzy hair..please us this product. Put this on wet or dry hair and it leaves such a smooth look. Looks like you've stepped out of the salon. Nice texture and smell. Great product!!!! I use this EVERYDAY.

Finally

I have been searching for something that works with my hair forever and I finally found it! I have long thick hair that gets extremely frizzy with even the slightest bit of humidity. This product really does the job. It's not perfect but it keeps my hair looking pretty close to perfect on those humid days.

I tried this and Then I tried Sveda's Moroc Argan oil

This product has artifical colors, smells and leaves your hair greasy! I just purchased Sveda's Moroc Argan Oil and had a much better experience, it is clear, smells good, has Jojoba oil and leaves your shiny, smooth and soft, great when using a hair dryer or flat iron and looks great for a couple days! I am obsessed with Sveda Organics Moroccan Argan Oil!

Back
to top