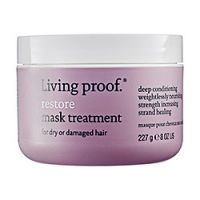 Good mask but I've had softer hair with drugstore brands

The reason I rated this product an 8 is because yes my hair does feel nourished after using this mask but it always does after I use a mask. My hair seems to get dry and breaks easily because of the fact that it's a curly wavy texture and I usually use heat on it once a week but my hair just always seems dry. I love using weekly masks to give some hydration to my hair and brighten up the color. ...read more I received this as a deluxe sample from Ulta or Sephora for purchasing some products and was excited to try it as other Living Proof products have been working well for me. The package was a 1 ounce size and the container says it's-strand healing, weightlessly repairing, and softness restoring. I definitely wouldn't say it healed my strands; I have split ends that are very apparent even after I use this mask. I do agree with the claim that it is a weightless formula because after I rinse it out my hair feels voluminous and not weighed down at all. I would say it's pretty good with creating softness to my hair because after it's been combed through it's pretty darn soft! The formula is a very thick consistency but is easy to distribute throughout my hair; I start at the ends, go to mid shaft, than barely use any at my roots because I know that my hair's natural oils will help hydrate that area. I than put it in a soft bun to let it penetrate for about an hour, but you can leave it on as short as 5 minutes, according to the package. Most masks say to use it weekly but this package says you can use it 1-2 times weekly which I like better. As with all Living Proof products-the smell is AMAZING. Whenever I smell LP products I always feel it has a very "peppery" smell to it...I don't know why because I don't like pepper but this smell is addicting. This mask runs at $42 for an 8 ounce size which is pretty standard for LP, however, I would rather purchase my FAVORITE hair mask of all time-L'real Paris Advanced haircare total repair 5 damage erasing balm for $5.99, and than get a bunch of other goodies for $42. I believe that mask works 10X better and is a quarter of the price.

Just a brilliant product!

Absolutely AMAZING! In one treatment already my hair is soft and no frizz!!! With my very fine hair it didn't weigh it down either. Wish I knew about this a long time ago!

Nope sorry...

I had very healthy untreated hair. It actual was to healthy and needed it to be a little bit drier so it wouldn't hang. Well I achieved that by highlighting so I looked for a good mask. Well this stuff makes my hair feel like straw. Sorry it makes my hair look frizzer than before I use the mask!! By a sample first to see how you like it!!

Back
to top