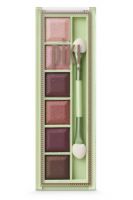 Pixi Mesmerizing Mineral Palette
As low as
Beautiful packaging but....

These colors are not pigmented at all. I love how pretty the packaging is and I found the formula to be way too soft. I put it inside my purse and it crumbled all over my purse. I tried applying this with eyeshadow primer but didn't help much with the pigmentation. So disappointed especially since this product was not cheap.

Not very creamy :(

I saw this in a Target ad and the colors looked so creamy! Wow - amazing what a print ad can do. :) When I stopped at Target, I went back and forth on this palette in Rich Gold. In person, the "golds" were more like a "dirty gold" and they just didn't look as creamy. It was my first experience with a Pixi eyeshadow and I decided to give it a shot anyway. The first thing that I noticed was that the...read more packaging was annoying; it has a flip top and when an eyeshadow palette is 5 or 6 inches long, it feel awkward to me to flip the top up. I would have liked to see different packaging with this. When I swatched the colors, they were pigmented but not very creamy. There also seemed to be a bit of overspray I was seeing (when the top is sprayed a certain color, and once it is removed or peels off, the color underneath is different). When I first dipped my brush in it, the color removed as it should, and there was some white I was seeing. I then took a q-tip and started pressing into the shadow and creating a line, but the color seemed to go all the way down. I tried this on a few of the shadows where I was seeing white. When I applied it on my eyelid, I really had some difficulty blending the color. I just was not impressed with the quality of this palette at all. There are others out there that are half the price that work better.

Back
to top