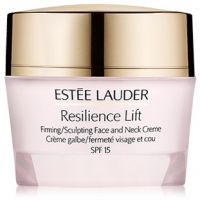 Estee Lauder Resilience Lift Firming/Sculpting Face and Neck Creme Broad Spectrum SPF 15
As low as
wrecked my skin!!!

I like estee lauder's powder, concealer, & makeup A LOT, but their moisturizers break me out. HOWEVER, when I received the sample of Resilience Lift, I had high hopes. But alas, this broke me out more than any other product ever has. I woke the next morning with over 30, yes 30, whiteheads and large pimples. Horrible! I'm not saying this is a bad product as the reviews both here and on EL websites...read more are glowing. It's just a bad product for me I guess. SOOO, make sure you try a sample before springing for the whole bottle!

Don't neglect your neck!

We spend so much time caring for the fragile skin on our faces that we forget to focus some time and attention on our necks. Yes ladies, our necks! Exfoliating, firming and applying vitamins and antioxidants on our necks will also help us hide our age. Estee Lauder (my favorite classic skin care brand) has a great Firming/Sculpting Firming Face and Neck Creme. This creme applied once a day wil...read morel help reduce fine line and wrinkles by accelerating your skin's natural collagen production. It is also formulated with SPF 15 to protect your face and neck from sun damage – our worst enemy! This product is definitely worth every penny.

Back
to top