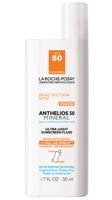 La Roche-Posay Anthelios Mineral SPF 50 Sunscreen Tinted
As low as
Not just a sun screen !

Oh My Gosh, This is my everything ! I use this sun screen for multiple things! I am in love with the simple fact that it is tinted and there is only one tinted shade for everyone. My skin is very fair and i will admit that i was very nervous to use it because the tint of this looked way to dark for me. I put it on and it blended in with my skin making my skin have this perfect natural glow about i...read moret and it matched my skin so perfect that it looked like my actual skin color. I honestly feel a lot more confident while wearing this because my face does not look so pale where as i struggled with that my whole life and i would get called names like Casper or something but anyways, It doesn't only work as a excellent sun screen it works as the perfect tint to your skin giving a perfect flawless glow if you do not want to wear make up one day and do not have time or something. I do not like to wear make up all the time because i causes breakouts to me so when finding this product and seeing my results i literally cried with excitement and happiness. Also while wearing it, it actually stays and does not look anything like other sunscreens. it is a super light liquid and after applying it , you feel like you not wearing anything at all. The price is totally worth it and it lasts for a long time so make sure your expiration date is like three years away because i had mine for about six months and i only have used a quarter size amount . you do not need much at all . Sun screen is the number one important thing in anti-aging due to sun exposure. So there fore, if you can find an amazing sunscreen like this with a incredible high SPF, the price is very worth the money and the lucky thing is this one does not cost much at all. Most sunscreen i have tried looked like my face was whiter or something. Oh and also, you can wear make up over this and not have to worry about it showing threw your make up giving you a horrible look. I have not found another sun screen come even the tiniest bit close to this product at all! If you have sensitive skin you can still use this because it is recommended to sensitive skin as well. It is 100% mineral formula which is great ! It does not look shiny at all when i apply it. It is just so light and provides so much coverage. It blends very well like i said earlier. I am just so pleased with this and will not be buying any other sun screen out there. I have found the love of my life. I am highly recommending this to you even if you think you have the perfect sun screen. `

Very nice

This is a great sunscreen. I've been looking for physical sunscreens that go on smoothly, and this definitely fits the bill. It goes on smoothly and sinks in quickly. I only wish it felt a little bit more moisturizing.

Back
to top