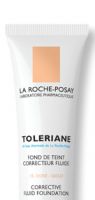 Best Foundation out there!

I agree with the awesome reviews on this Foundation that can be used as a concealer at the same time. Also the Toleriane Compact Foundation - a compact for touch-up is also an amazing product. I buy both on AlexaSpa.com - awesome online store.

Drugstore junkie

I have skin issues at 38...acne from time to time and very sensitive skin. I am also dark skinned as my father is indian; my mother is chinese. What I do is combine this product with a tad bit of dark makeup and it works wonders. This product is amazing to help clear my skin and provides sufficient enough coverage. I too wish they had other shades however, I do my own mixing and matching.

Fabulous!!! Honestly try it!!

I guess you could say I'm a bit of a foundation junkie. I am a 46 year old woman with very blotchy skin thanks to chemotherapy and age. I am always looking for a foundation that really covers but does not feel heavy (not easy to find). My mother and my sister, who both have rosacea, have been using it and swear by it. I tried it and I could not believe it. It is a wonderful product. It is ve...read morelvety smooth to apply and feels like you are wearing nothing. If you have something to cover ie. you do not have the most perfect skin, you might want to consider giving this one a shot.