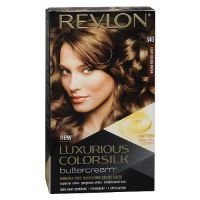 My go to...

I love the color choices and I've had 2 separate experiences with this. First time my hair came out a little brittle at the ends, second time, my hair felt amazing. Can't really complain too much - the price point is perfect. I always use a deep conditioner after coloring my hair - that tends to make a huge difference.

Perfect for "do it yourself" women

I love this in the Med Golden Chestnut Brown-it gives my hair a better texture, a deep glow, and enough copper in the highlights to keep it from being boring. The price point is fantastic!

Leaves hair nourished

I bought this dye because it was on sale and i was sold from day one. I frequently color my hair and i always do my whole head not touch-ups on the roots. I was surprised that for the price it made my hair soft after the application and the conditioner wasn't bad either. My hair wasn't fried at all.