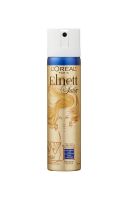 Thank god the awful scent is gone!

I love this product but stopped using it because the scented version was overpowering. I am thankful for this unscented version it works just as well without overpowering your fragrance. Still expensive though.

Best light lasting hold spray

I love this product. It works great on my long hair in deep humidity without a heavy stiff feel. I live in a windy humid environment and this holds great yet I can easily brush through my hair without losing the style.

THE BEST

This stuff lives up to the hype, for sure! Holds really really well, with ZERO stiffness or crunchiness and I spray A LOT of that ish ON. It literally lasts ALL DAY, a good 8 hours or so. The scented version smells pretty good, but I like the unscented better since I like to wear perfume and don't want my hairspray interfering with those scents. My ONE unfortunate complaint (hence the loss of ...read moreone star) about this is the nozzle hole - it clogs FREQUENTLY and you have to like peel the dried/sticky little piece of hairspray out of the hole to get it to spray properly again (running under hot water did not work for me...maybe I wasn't patient enough?). When the nozzle is fully functioning though, even the spray is amazing! It's light and airy and like this fine mist of hairspray awesomeness that I want all over my hair.

Back
to top