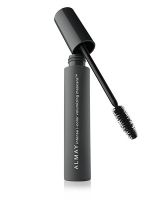 Good for a Change of Color

I bought this to enhance my hazel eyes; tinted mascara is a fun way to experiment and bring attention to your natural color. But Almay claims "Big, bold volume for two times the impact." I didn't find this mascara particularly helpful in adding volume. It separate lashes fairly well and did not clump for me, but the best part is the color. One tip? Color lashes with brown or black and just "tip" the ends with blue, purple, or another hue.

Bad

This mascara is pretty bad. I got it because I wanted to try purple on my hazel eyes, and was very disappointed. First of all, you can't really see the color unless you blast light right on the lashes. The brush is huge, which usually helps with volume, but not in this case. It was just difficult to apply mascara with the giant brush. It separates lashes ok, but doesn't add any volume even with mu...read moreltiple coats. Since the brush is so big, applying layers is difficult too, it takes a lot of effort to not get any mascara in the eye. And if any of this mascara gets in the eye it stings quite a bit, and can irritate eyes overall- I believe this is unacceptable for an eye product. Also, this mascara has a noticeable chemical smell. The mascara doesn't clump and doesn't flake, but leaves lashes very stiff. The packaging is not too great. Both, the tube and the brush are unnecessarily large. Will not buy again. Will stick to my L'Oreal Voluminous.

I enjoy it

I love how many and how big the bristles there are on the brush. It really gets all of my lashes. I love the coverage and the color (black) but I am disappointed in the "volumizing" aspect. It isn't as voluminous as I had hoped. It's still great for an everyday, natural look which is what I wear usually.

Back
to top