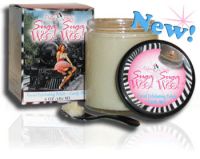 just wonderfull

I love that blaire uses sugar in this. It washes off easily and works great. this is not greasy

Leaves my face smooth and tingly!

This is a really nice facial scrub. It's not abrasive and I think there is a touch of peppermint essential oil. It smells yummy and leaves my face just a little tingly. It makes my skin feel alive!!

I'm on the train!

I've been using Pristine Beauty products for 2 years now - all of them - and I LOVE this scrub. It smells great, it's recyclable, it lasts a long time & it works really well! I use it at night, before I go to bed. When I rinse my face I just lightly remove the sugar granules but I leave as much of the product on as possible. And then I sleep in it! When I wake up my face is soft and yummy. It's like a moisture mask. And my skin doesn't break out as often... Love it!

Back
to top