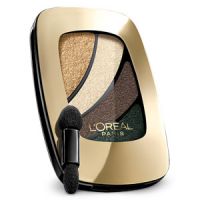 L'Oréal Colour Riche Eyeshadow
As low as
L'Oreals Rich Shadow Quads are Gorgeous!

I've been "eyeing" L'Oreal's new "Colour Riche" Eye Shadow quads for a few months now (stupid pun intended.) No, I don't need another palette, but these colors are so rich, so decadent, so opulent that they practically jump off the drugstore shelves and into my hands. The multitude of online and magazine ads have added to the pressure for me--and I am well aware of the tactics they are using, as...read more one of my degrees is in marketing! So I caved; I decided to choose one--just one--quad for now, and it was "Sultry Seductress," No. 527. L'Oreal's quads come in a mix of shimmer and matte finishes. This particular palette is all-shimmer and very seductive. There is a helpful schematic on the back on how to achieve a smoky look. The colors? Ah, an absolutely gorgeous, sumptuous taupe, becoming for all women, all skin tones. Just a swipe of this shade would work well for an everyday or evening look. It more than justified the $7.50 I paid for the compact. I was happy! Add to that a hard-to-resist creamy, shimmery peach which can be used from brow to lid or simply as a highlighter. My hazel-green eyes always benefit from great plums. L'Oreal adds a deep, inky, stunning amethyst to the mix, a shade which seems to have the least gleam of all. It is amazing to contour, create a come-hither "cat eye," or smudge under bottom lashes as a soft eyeliner. The last color is a glittering black. Once more, this can be used to contour or line eyes. The texture is pure velvet. I kept the applicator which came with the palette for on-the-go use, but I work with my own brushes at home. The shadows apply and blend very adeptly and smoothly. When used over a good primer, like Too Faced's "Shadow Insurance," all-day into evening wear is ensured. Other quads, like "Army Brat" (a combination of browns) are still calling my name. It seems that I have no choice but to answer and purchase more . . .

Cupa Joe.....Drugstore Matte ~ FINALLY!

I bought this in Cupa Joe, a nude matte quad that is perfectly pretty for everyday wear. In fact, I've been using this daily since I bought it. True, silky matte eye shadow is almost non-existent in the drugstore and I end up feeling left out as a more mature woman who is over the "glitter" and "shimmer" shadows that tend to dominate drugstore makeup shelves. This shadow is silky and goes on, ble...read morends effortlessly. All colors were usable in this quad ~ no more buying four to use only two! Great staying power for me ( I use Revlon Colorstay Pressed Powder as my shadow base) and the color applies true. Love it, love it, love it and will look for more. For a great, inexpensive option to the Nakeds, try Cupa Joe, definitely!

Awesome Colors

I keep buy more and more compacts. The shadow is so silky and stays on all day (and night). The colors are coordinated to blend together well. This is department store quality at a drugstore price.

Back
to top