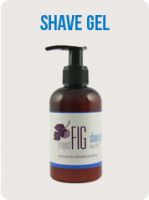 project FIG Shave Gel
As low as
I love this stuff

The shave gel is super lovely and easy to shave with. I'm super prone to ingrown hairs and razor burn. This is amazing on sensitive skin! So glad I gave this a try on my bikini area! Yay products that work!

A new lifetime customer speaks out!

If you have not yet added Project FIG to your beauty and grooming goodies, do yourself a wonderful favor! I am so glad a friend recommended these products to me! The shave gel is so silky smooth and super effective. I shave less often and it's incredibly gentle on sensitive skin. I can't help but use it all over! Thank you Project FIG!!

Back
to top