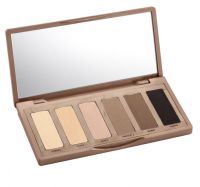 Just because they're Basics doesn't mean they're not amazing!

I have fallen in love with Urban Decay products throughout the time I have shopped high end makeup and their eyeshadow palettes are so incredible I definitely feel they are growing to become my favorites. So the $29 price point is great because I always divide out the number of products in the kit by the price and when divided out that is $4.83 per eye shadow; this is actually a better value than...read more shopping for drugstore makeup as most of the time drugstore eyeshadows are around that price anyways so if you are new to high end makeup and have the $29 plus tax to purchase the Naked Basics palette, I would. In the long run you're paying about the same as drugstore eye shadows but are getting such a highly pigmented matte shadow that the money is well worth it! If you like nude shades and want an eyeshadow palette that is tiny, sleek, and perfect for day or night, I would say this is a great value. This palette comes with six matte eyeshadows in shades Venus, Foxy, WOS, Naked 2, Faint, and Crave and those shades go from lightest to Crave being a matte black. I usually use WOS as a highlight along my brow bone and Naked 2 on my lid and blend Faint into my crease when I am just running errands are doing anything that is more conservative. At nighttime or if I am going out or to a special event I would rather put Crave in my crease and blend as it definitely gives my eyes a more dramatic look and I pair it with a nude lip. If I have to work I just use WOS on my brow bone and Naked 2 on my lid and blend. The shadows are so soft, easy to apply, easy to blend, and stay all day, whether I'm just running errands, doing house work or out in the heat, they aren't smudging or moving. I believe this is a great palette for all skin types and different ethnicities as nude shades work for everyone. If you are looking for a small but reliable and well priced nude eyeshadow palette the Naked Basics is for you!

Beautiful

Beautiful colors, very natural. Pricey product compare to physicians formula. Great hues for everyday natural color and contouring.

LOVEEE!!!

Urban Decay you've done it again! Extra kudos to you because I'm not much of a matte fan, after contemplating for months whether or nor I needed this I cracked and what a good choice because it's amazing!!! Portable, pigmented, and perfect for everday life or travel!!! Best twenty seven dollars I've ever spent.

Back
to top