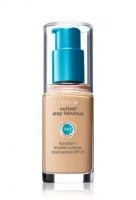 Covergirl

I used to use Covergirl's foundation when I was in high school. But over time I found that it is very oily and caused my skin to break out. Once they brought Ellen on as a spokesperson, I was pretty much finished with the brand in total. That did not make any sense and she is pretty much the worst spokesmodel every-- they ought to bring back the beautiful Christie Brinkley. Anyway, I thought that ...read morethis foundation was very watery. I like my foundations to be applied with a brush, and this was too thin and runny for me to be able to do that with this formula. I also thought that the range of colors was pretty limited, and they all seemed to have a pinkish tone to them-- where are the cooler colors, or the colors with the golden undertones? Going on, this foundation seemed to be very chalky with its finish. I guess that is supposed ot mattify, but overall I found that it made my skin look ashy and tired, rather than dewy or glowing, which is the type of finish that I prefer. The scent of this foundation liquid was also pretty weird-- it has a strong and antiseptic smell to it. It reminded me of cleaning fluid that you might use to clean your kitchen with, which is not something that I would not want to put onto my face at all. Another issue I had with this foundation is the price. I used to think of Covergirl as a bargain brand, but slowly over time the prices have been creeping upward, and I just don't think that quality has improved with that price creep. Their products are not a good value anymore. I am not of fan of this foundation and do not recommend it to anyone at all.

Super!

This is my new favorite foundation. The color is beautiful, it applies flawlessly and evenly. It's full coverage without the heavy, greasy, oily feel. Lightweight, feel like you're wearing nothing at all. I've been wearing it for almost two weeks and haven't had one pimple or outbreak of any kind. I am now looking at Covergirl in a different light. This is a great product!

Meh

Don't get all the hype, or maybe I'm just using it incorrectly. First of all, I think I got the wrong shade, so that was a mistake on my part. I got the shade 842 which is Medium Beige. I should have gotten a shade that had a yellow undertone and was fit for my light skin, this was more pink, like most Covergirl foundations. The foundation states that it acts as a primer, concealer, and foundation...read more all in one. I find that I still need a primer to make th foundation not look cakey, and I still need concealer on blemishes, but the foundation gets most of the redness. I might repurchase this, but in the correct shade and review this again.