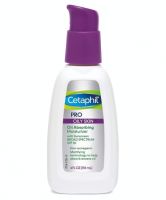 Not sure

I got a sample of this in an epiduo trial kit. I was not impressed. It doesn't really moisturize which was a problem because epiduo really dried out my skin. It was a kind of runny consistency and didn't really work well with my oily skin. However I really like the matching oil control foam facial cleanser

Not the best

I've found what works for me through trial and error, as many people have. This moisturizer is awful. I have oily skin, so I was using this with the matching cleanser for a while. I do like the fact that it had spf in it, which I need to be better at using, but it made me feel so gross. It made my skin look shiny and the smell is really a turn-off. I'd accidently get some in my mouth and oh my, worst taste. This might work better for combination skin, but it's definitely not for me.

Awesome!

For quite awhile, Cetaphil only had moisturizers that were SPF 15 and 50. SPF 15 just did not feel like enough protection and SPF 50 made my face feel oily! This is just the right amount of protection. My skin stays matte all day and feels super smooth. The only thing I would change about the product is the smell, its not too bothersome so that is why I keep using it but I don't really like it either. Otherwise, great product!

Back
to top