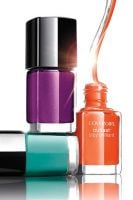 This "Outlasts" Many Other Polishes!

I'm hard on my nails, and I tend to shy away from vibrant shades because most brands chip easily, especially after the way I use my hands. I've been having gel manicures and loving them but, before Christmas, didn't have time to visit the salon. My husband saw a stunning, decadent, glimmering red in the drugstore and simply bought it for me. It was CoverGirl's "Outlast Stay Brilliant Nail Gloss...read more." I had low expectations for this polish, especially after my complete disappointment with "Outlast" lip stains. I was sure that the enamel would be off my fingers by the second or third day at the most, despite using a strong topcoat. I was in for a surprise! This is a multi-tasker, with a built-in topcoat of its own for dazzling shine and lasting wear. A week later, all I needed to do was tend to some hard-to-see dents (I'm a perfectionist with my nails). It lasted nearly ten days on me, which is a record! I won't give up gel manicures, but I'm going to stock up on CG's "Outlast" nail glosses for spring/summer and keep them around for times when I can't go to the salon. At $5.50 each, there is little guilt involved with purchase, always a plus for me.

"...impressed!"

I was impressed! This was rich in texture, and it rarely, if ever, streaked. I love the colors, especially peaches and cream. Very nice!

Really great!

You only need one coat of this which is amazing! The colors are beautiful and this product dries really fast! The only thing I wish was different was that the lid wasn't square. I find it harder to hold onto and get the right amount of leverage to do a really good job on my nails.

Back
to top