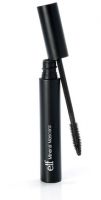 E.L.F. Studio Mineral Infused Mascara
As low as
In love with this mascara and always get backups!

I feel a little weird having such a contrary view of the previous reviewer of this product but I am absolutely in love with this mascara! I wish I could insert pictures to show you guys what a world of a difference it makes for my lashes. I guess most mascara reviews should really come with a premise because we all have different lashes and thus, different needs when it comes to choosing the best...read more product to suit those needs. So my lashes are "in-between" everything: not too long, but definitely not short, not too thick but not very sparse either, not too light but not dark enough to stand out and the tips do get "ombreed" by the sun…  And they are extremely soft. What I look for in mascara is a wand that isn't too thick and loaded with a ton of product when I pull it out of the tube. I look for a wand that will separate my lashes without leaving chunks of mascara on them and that is gentle enough to coat every one of them without crushing them by its weight or massive size. And yes, I do like a bit of extra volume and length if possible, but I won't go for extra length if that means getting "spider legs" lashes. This honestly does it all for me. And the amazing bonus of this mascara is its setting time. It gives you more than enough time to apply your mascara and by the time you're done, you can still go ahead and put another coat on without getting clumps, if you need some extra definition or you are preparing for a night out. Even when it's completely set it never gets very hard on your lashes and they still retain their flexibility and natural look. The only color choice available for now is black. The product itself is more on a liquidy side but definitely not runny or anything like that – it's perfect and never goes chunky on you. I just can't say enough about this mascara and I always get backups when I order from "e.l.f. Cosmetics". Would obviously recommend to anyone who is looking for the same qualities in their mascaras. ;)

Stiletto lashes!

It makes my eyelashes super long and beautiful! It also separates the lashes for a clump-free, natural look. I love this mascara! I use it literally every day! I would totally recommend it.

Not Impressed.

Some ELF products amaze me with the way they deliver results with such a low price. This mascara, however, is not one of them. Even after multiple coats my eyelashes don't look a whole lot longer or thicker. It tends to make my eyelashes look thin and brittle. Also it transfers to my eyelids each time I apply it.

Back
to top