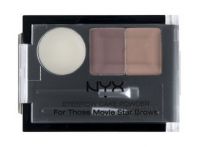 Not an exact dupe for Anastasia brow powder.....

Everything about this powder including the wax is amazing for the price. I like how the wax is thick and still holds my brows in place but not slick and greasy so my brows look shiny. At first I got this in the color Dark Brunette since I have dark brown hair and would think the color would match me but it has a reddish undertone so I swapped it out for the color Taupe/Ash which is a little bit be...read moretter but not as pigmented as I would like. Don't get me wrong. The powder is pigmented enough to make my brows look natural and with the wax on top, it stays even better. Blends like a dream and so easy to use! The only thing I noticed about this product is that it doesn't last all day like my Anastasia brow powder. I can get at least a two hour wear of this before the color and wax starts to fade and my brows strays all over the place. Also the powder can apply pretty patchy and not as smooth as I would like.

Fantastic treat for your brows!

This is a truly great product for those who want naturally looking brows! I have been looking for the right color of eyebrow product for years, and everything seemed to have reddish/auburnish shade, which made it obvious I did something with my eyebrows. And then I finally found NYX eyebrow cake in Taupe/Ash. It looks light in the package, but is perfect on eyebrows. I have naturally dark brown ha...read moreir, and actually most often use the lighter shade to fill in the gaps in my brows. The color blends very well, and it is super easy to achieve natural look. The wax is nice too to keep the brows in place and the color more long-lasting, I don't always use it, but it is useful in certain situations. I haven't experienced any bleeding/fading/transferring, the color lasts from the moment I apply it to the moment I remove it. I don't like the brush for applying color- the edge is too thick, so I recommend to use a different brush for application. The shaping brush, on the other hand, is very nice, and helps to put all the hairs in the right place. The packaging is nice and sturdy. There is no mirror, but it is better to use a large mirror when you do brows anyway. The price is good ($6, I believe), and it is worth every penny, because the quality and shades are just perfect. HUUUUGE improvement over wet'n'wild's eyebrow set. I'm taking one star off just for the bad applicator. I will definitely keep using this Eyebrow Cake Powder, and highly recommend it to anyone looking for a great eyebrow product with excellent selection of natural colors.

Natural looking brows

I am Asian with fair/medium skin tone and very black black hair. I got the shade in Taupe/Ash and it gives my brows a very natural look. I like to lightly fill my brows in first with a grayish eyeliner, and then I mix the two brow powders and blend everything together. The kit comes with a wax thingy too but I don't really use that. Also a tiny brush and a spoolie which is very convenient. The packaging is not too great since my lid broke off.