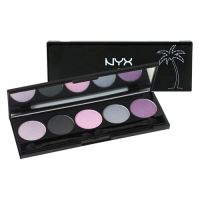 This Palette is a Winner!

A friend of mine told me about NYX a few years ago. I tried a palette in hues of brown (with shimmer and matte finishes) and could not have been more pleased. It's hard to go wrong when working with these satiny, blendable colors, as they are chosen to work perfectly together. They are well-pigmented and last a very long time, especially with NYX's wonderful HD primer. I now own every palette available; there is little difference between these and the pricey brands, if any!

Great Palette

I discovered the Nyx line when I received a flyer from ULTA. I must say I am very impressed with this eye shadow palette. I have hazel eyes, and purples really make my eyes pop. This palette is half the price of Urban Decay, which I have purchased for years, and has the same pigmentation and staying power without a primer! I suggest you take a look at what NYX has to offer. After I purchased t...read morehis, I went trolling through Amazon and found a makeup kit for the eyes and face. Also, I couldn't resist and purchased the Dark Shadows Collection which is like a book that has eyeshadows and blush for the different looks of the 3 main characters from the movie. I am very very pleased with the quality of NYX, and I highly recommend it to all of you.

Pretty good!!

I have the 5 color shadow palette of the Caribbean Collection I Dream of Barbados. And I immediately liked it. I don't like wearing any eye shadows that make me look like a raccoon, or that make me look like I'm trying too hard. If you look in my cosmetics bag you will find that I love pink, lilac, purple and bronze colors for my eye shadows. I was happy to see that most of the colors in the palet...read morete were those! So I put it on and I loved the way they shimmer. Nothing too showy, and it doesn't attract too much attention. I love this palette, and the mirror is just a plus. My favorite shade that this palette has is the pink one, the one in the middle. My skin is kind of yellow/brownish, and it makes me eyes pop up! When I am done with this one I will definitely buy again. Love it!

Back
to top