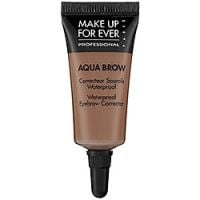 Make Up For Ever Aqua Brow
As low as
Amazing Brow Product!

I had my eye on this for a long time before I bought it. Each time I went to Sephora, they were out of testers. Once I was finally able to swatch the colors, I opted for color 10 (light blonde) even though I have medium brown hair and brows. The color is still perfectly dark for me and would probably be far too dark for any actual blondes. For me, this is the PERFECT brow product. Color 10 is...read more a cool toned ash brown which is great because far too many brow products are too warm toned. The consistency of this is different from anything else I have used. It is a cream that goes on easily and lasts ALL DAY. A little product goes a long way too. I squeeze a tiny amount on my hand and apply with a synthetic angled brow brush. You will need to work fairly quickly once you apply this because once it sets, it will stay put. After I get the shape right, I quickly brush through with a lash brush. This provides the perfect balance of brow enhancement with a natural look. You could build up the color if you want it more intense too. I love knowing that no matter what time of the day, or how much I have inadvertently touched my face, that my eyebrows will look perfect. I would definitely recommend going to a store and swatching the colors or find a detailed review with swatches on a blog somewhere before you purchase. Once you get the right color, you will be amazed by this awesome and unique brow product!

LOVE LOVE LOVE LOVE

I absolutely love this brow product. After a couple practice rounds, I found it wayyy easier to apply than powder or pencil. It also does a great job of blending my natural brows with the areas that I correct (primarily, my arches). The color is fantastic and one tube has lasted me 6+ months so far and still going! My only word of caution is that is goes on slightly lighter than it dries, so the f...read moreirst time you apply it, there is a moment of mini-heart attack thinking that the color is way off. Just give it a second to dry and it will be wonderfullllll!

will not buy it again

Just when I was about to buy the Waterproof Eyebrow Corrector they run out of stock. So when I visited MUF they said this is their new brow corrector. With lot's of shades to choose from. The make up artist promised me it's waterproof & will last me all day. This is the 2nd day I've used it but I feel there's nothing special about it. First it doesn't have the staying power 2nd I hate that it's in a tube. I think I'll stick up w/ my Laura Mercier Brow pot.