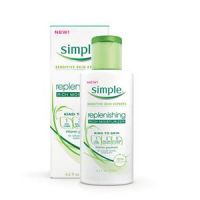 Amazing!

PROS: - Remove makeup without any effort, a few swipes and even the toughest mascara is wiped away. - Face feels clean, doesn't leave any weird stickiness or dirty feeling behind. - No stinging, or roughness like other face wipes, it is very gentle. - Wipes are not too wet and no dry, actually perfectly moistened. CONS: None. Simple Skincare CLAIMS: - They don't use perfumes, dues, or harsh ...read moreirritants that can upset your skin. - It contains PRO-VITAMIN B5 which helps restore, soften, and smooth the skin. - It contains skin loving nutrients such as Glycerin (hydrates/nourishes the skin), Bisabolol (soothes and calms the skin), and Allaltoin (soften skin)

Painful Breakout

I honestly have skin that will go through anything without breaking out and I don't have any allergies, but this is the one thing that will cause it to go berserk. Thank goodness I didn't spend money on this. I got it in the mail as a free sample. As with all other Simple products, this was white and unscented, packaged in the familiar green and white, plain packaging. When I first squeezed this o...read moreut of the bottle and smoothed in on my face, I was in love. It was lightweight, but it made my face feel so replenished and velvety soft. So I went to bed thinking that I had found my new "it" moisturizer. But when I woke up, I had tiny, bumpy, uneven, and rather painful small bumps all over my face where I had applied the moisturizer the night before. Not. Cool. I have not broken out in about six months, but this finally caused one of the worst breakouts I've had in a long time. Besides the fact that this moisturizer made me break out, the ingredients don't list anything particularly impressive that could seem to deliver on Simple's claims. Overall, this made my insensitive, highly tolerant skin break out like never before, and it doesn't seem to have any particularly unique or effective ingredients. Don't waste money, time, or hopes on this product. I usually like (don't love, but like) Simple's products, but this one is awful.

Half and Half !

I really love this product line and had really nice and smooth results. I did not find this product to be one of the good ones unfortunately. To me, I found this rich moisturizer not very rich in moisturizing at all, which was a bumper because my skin is more toward the dry side. To my skin it was more of a light moisturizer but everyone's skin is different and has different needs. Besides the moi...read moresture level for me, I had no additional problems with this and I would recommend it to those who do not need a rich moisturizer. Someone who is looking for something more light and natural on the skin. Great product for that. Price is absolutely amazing and you are given a great size in the product. I found the smell to be a neutral smell meaning it didn't really have a smell to it.

Back
to top