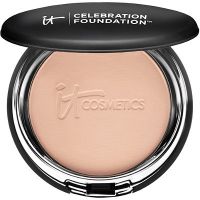 Best foundation EVER!!! Use BRUSH not sponge...

It Cosmetics Review Title - best foundation EVER! I have so much positive to say about this product. I've found my holy grail of foundation! After much consideration I order It Cosmetics Celebration (powder) Foundation from their website. It's fantastic and so is their customer service! I was trying to decide on a shade and emailed back and forth with them several times. I also was trying to...read more decide if I would like the dual ended foundation/powder and small concealor ended brush they offer with the foundation or the flat top foundation brush offered by QVC. They were more than happy to explain the differences between the two and were extremely kind and helpful. I was thrilled that they offer a Light Medium shade because I usually fall between Light and Medium. The shade is PERFECT for my skintone and probably the best match I have ever found. The powder glides onto my skin like air, but covers any redness like a dream. The small, fluffy concealor end of their brush is just right for around the eye &/or nose area or for anywhere you want extra coverage. With it I was able to cover a small area of sun damage seamlessly that I've never even found a concealor that would cover! Being a powder foundation you wouldn't think it could offer so much coverage, but boy does it. It contains no bismuth so it isn't irritating. I've tried mineral foundations that contain bismuth and they makes my skin itch so badly I literally want to claw my skin off. This amazing powder foundation hides pores and lines/wrinkles so flawlessly - it doesn't settle into any of this imperfections. It's like you've taken an eraser to your skin and gotten rid of all the bad stuff and left behind only the good and the good is looking it's absolute best. There is no shimmer, no "dewy" look. Just a soft natural matte finish. The brush lays down he foundation with very little effort and the bristles on both ends are so soft feeling. With just a little buffing the foundation blends beautifully! My husband's actual words were "your skin looks porcelain doll-ish!". Is there a better thing to have said about 44 year old skin?!?! By the end of the day the foundation looked just as perfect as when I first applied it - with NO TOUCH UPS! And is so comfortable it's like there's nothing on my skin. I signed up for It Cosmetics email newsletter on their site and received a 20% off coupon. Plus for orders over $25.00 you qualify for free shipping, so it was less expensive to order from them than to order from QVC. Plus they include a free sample with each order. I received a travel size of their Hello Lashes mascara. It's a really nice mascara that doesn't flake and with the little ball on the end the wand, I could really reach in and get all the little lashes, so it makes me look like I have more lashes! It's also perfect for getting those little bitty bottom lashes. I will definately order his Celebration Foundation again and probably venture into some of their other products.

Great all over cover foundation

I really love this foundation. It looks absolutely flawless for just a powder cover up. I use the medium shade and it covers very well. If you need extra coverage for a blemish or extra redness you can use a conceler in addition to have flawless coverage. I have naturally red cheeks and It covers it beautifully.

LOVE

I LOVE this foundation! but it is more on the expensive side depending on where you get it! Mine was 50$ which sucked but it's definitely the best foundation I've ever used!