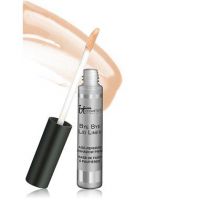 Quality Primer

It Cosmetics makes quality its first priority. This primer is easily applied, keeps eye shadows in place and enhances the colors, and never, ever creases. I have fallen asleep and woken up with my eye makeup perfectly intact (not a good habit, I know!).

Great product

I love this primer. Good price. Helps hold my eye shadow in place without a gunky look. Beauty must have.

It Cosmetics

This product delivers! Moisturizing too! I agree with using it along the lip line also to prevent feathering!