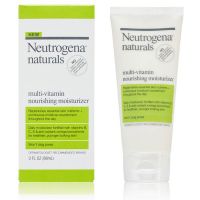 No Sunscreen

I have an allergic reaction to sunscreens, so this daily moisturizer works well for me. If you're looking for a moisturizer with sunscreen, this isn't it. But if you are like me and you react negatively to sunscreen than this is a wonderful alternative. It can be purchased at the local drugstore and it won't break the bank. It has a pretty strong smell and it isn't quite as good as an Olay product, but I find it second-best.

Smells delicious

Highlight is he delicious oat and honey smell when applying to the face. Although I know it's synthetic it's refreshing to have a moisturiser that actually makes you want to eat it rather than some kind of scent of essential oils and soap. This does the job for a drugstore moisturiser but coming into summer now it feels a little more oily than when I first started using it. Good for sensitive skin...read more if you develop reactions to your moisturisers after a while of using them. I can't say the "won't clog pores" claim on the bottle is entirely true, it feels light enough but it definitely doesn't minimise them.

Burned my skin

This moisturizer, in combination with my daily cleanser made the skin around my eyes turn red and burned my skin. It may be that I am allergic to something in its formula; but I was looking for something that was more lightweight than what I was using before and I have had to stop using this after only 2 days. Very sad about this one.

Back
to top