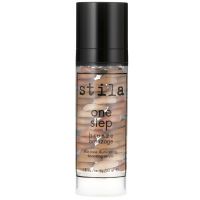 Stila One Step Bronze
As low as
AMAZZING sry if this is messed up I hate auto correct

Omg I love this I was strolling through Sophora with my mother when we found it. She bought it for herself because I arty have a good bronzer that I like which was my different Stillpond but then she issues in my to her skin tone because she is already pretty can't so I have a cause I'm sort of fact and it's amazing I love it it's perfect

Looks scary for fair skin but it's great!

I got this in a Birchbox, and I'm so glad I did because I probably would never have tried it otherwise, having had some really bad bronzer experiences in the past. The dark-looking pigments make this a really scary looking product in the bottle for those of us with super-fair skin. Then I noticed they're suspended in a gel base, so I ventured forth. Know what? It works! I applied sparingly at firs...read moret, and it wasn't too dark at all. It went on nicely and was easy to blend, and wasn't streaky in the least. It also didn't leave my face orange, which happened with a lot of bronzers I've tried in the past. The amount of shimmer was the right amount, too without being full-on Vegas glitz. My combination skin liked it, too. My only complaints? Vague instructions took me a minute to figure out whether I was supposed to use facial moisturizer first (I split the difference and used a light one), and having SPF in the product would be a great touch (fortunately my moisturizer has it). As for staying power,it's hard to say because I don't use bronzer on my whole face--just where the sun would highlight-- but it's probably about the same as my normal BB cream. Overall, I was pleased with the results and I'll definitely buy this when the sample runs out.

Back
to top