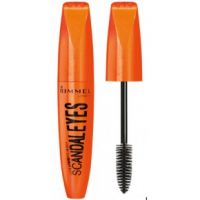 Uggh, goshhh

I was SO disappointed with this mascara as I have used Rimmel products in the past and they are awesome! Even thinking about this mascara makes me cringe! I LOVE the neon orange tube it comes in, and the mascara wand seemed pretty traditional, so I figured I was in for another great mascara, except that the brush felt so dry on my lashes, and it felt like I was brushing through with an empty bru...read moresh. I did not see any noticeable difference in the blackness of my lashes after applying it (I have very dark lashes but black mascaras still show up) and there was no separation or volume added. It kind of hurt to apply the wand to my lashes, which was uncomfortable and just spoiled the entire experience. I have never used a brush as dry as this one, even with me numerously dipping the brush into the tube and swirling it around to get some product on the brush. I gave it to my friend and apparently she says it works for her...Cool! Still a waste of my money and crushed excitement!!!

is chillin

is good it makes ur lashes look long but after i start running out it start to flak and it looks a mess i would buy it again cause my lashes look huge with this mascara u can buy it for $5 dollars at five and below a cheaper place to buy this i recommand it to people

Flakey Mascara

This make my lashes look nice and full. The wand is big and it touches my eye lid if I'm not super careful while applying. After a couple hours this will flake all over your face.

Back
to top