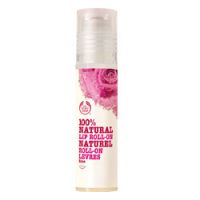 The Body Shop 100% Natural Lip Roll-On
As low as
Good...

This isn't something you need, just something extra if you're... extra bored. It doesn't really last (read: 15 minutes max), and the first few times you use it, it makes your lips feel dry (but it moisturizes after you get used to it). However, the scent and flavor are genuinely amazing and natural, and the metal ball makes my lips feel cool. I like to layer it under my lip balm during the winter months as a pick-me-up and for extra moisturizing power.

Typical Natural Roll On

These are not great. They lack any kind of real consistency like most roll on glosses. It doesn't stay on my lips past 10 minutes. If you are bored that's ok, because then you can keep re-applying it and rubbing it in (and tasting it). They do make your lips a little softer. It would be a good lip prep item before you apply lipstick. It does feel oily. I got this because it reminded me of the ones I used to get as a kid, usually from lip smackers. 3 stars for taste and nostalgia.

Back
to top