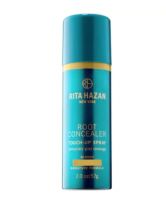 Rita Hazan Root Concealer Touch Up Spray
As low as
Powerful Stream of Harsh Color

I said in previous posts how much I hate coloring my hair. Temporary root-covering products are good. I like the one from Paula's Choice. Before that, I was using Roux's "Tween Time" (reasonably priced at Amazon for about $7.00). At first my results were horrendous--should I admit this? Okay, I will. I didn't thoroughly read the package and didn't realize that you needed to dampen the stick...read more before use. Once I did, I was able to spread color over the areas I wanted. When it dried, I could comb through it easily and it looked and felt natural. Color remained until I shampooed. Then magazine articles touted the miraculous effects of Rita Hazan's "Root Concealer." I researched it on Sephora and was pleased to see that it is free of parabens, sulfates, phthalates, petrochemicals, and synthetic dyes and fragrances. It is available in a shade appropriate for my auburn hair ($25.00). Hazan claims that one of the benefits is the "pinpoint actuator" which allows precise application. Too precise! I tried it a few times, and a heavy, steady stream of color penetrated not only my hair but also my scalp. Like the other reader, I had a hard time removing this color even though I washed my hair several times. I returned it and asked for a refund. Back to Roux and Paula's Choice for me!

Be Careful - It Doesn't Wash Out!

I searched for reviews of this product after using it. I should have looked before. I found only positive reviews on the Sephora website (Sephora is the exclusive seller of the product; which makes me suspicious now of that site). Once I put my review there I saw a question from someone who said "I've washed 3 times and it won't come out! What should I do?" I tried to answer the question but ...read moregot an error message that said "submission cannot be found". Suspicious. Finally I found CVS reviews (I'm guessing they used to sell the product?). Like me, those people experienced the disgusting, sticky, gluey, pastey, dry feeling in their hair and immediately tried to wash it out. I shampooed three times with three different shampoos and then conditioned. I could still feel it "a LOT" in my roots. I have thin, fragile hair so I really didn't want to have to have it scrubbed out at the salon and lose more hair. In the end I rubbed a bottle of Argan oil all over my scalp and left it in for a while. That worked finally. I was so scared I'd never get that stuff out of my hair! Don't buy it.