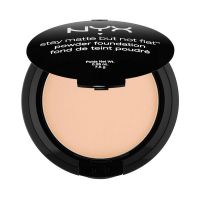 Lovely

I picked this up on a whim and really like the product. It is a matte finish, but not severely so. Because it is matte, it may not be as good for those with dry skin. I found you get a lot of product for your money, the packaging is easy to use, and the powder glides on very smoothly. The colors do tend to be light and a bit on the yellow side, but they do also have a nice range and they blend well.

Great Coverage, Better Price

This powder foundation has great coverage, I am able to use alone and my face looks flawless. They do have a nice selection of colors as well. My skin tends to get oily through out the day and this keeps it matte for hours. And you really cant beat the price. It exceeds even the high end powder foundations I've tried.

Go to powder

I love this powder. I use it everyday and it helps me keep my shine under control. Its not too matte which is always nice and it works just as well as the expensive brands.